Illustrator and Designer
Maria Nicklin | Furyworks Productions
Specializing in hand-lettering and illustration
Furyworks Productions is a small graphic arts studio in Western Loudoun County specializing in illustration, design, and writing.
The studio name is based on the archaic definition of the word fury: the frenzy of being inspired. The words Fury and Works were combined to communicate that the energy of inspiration fuels good works.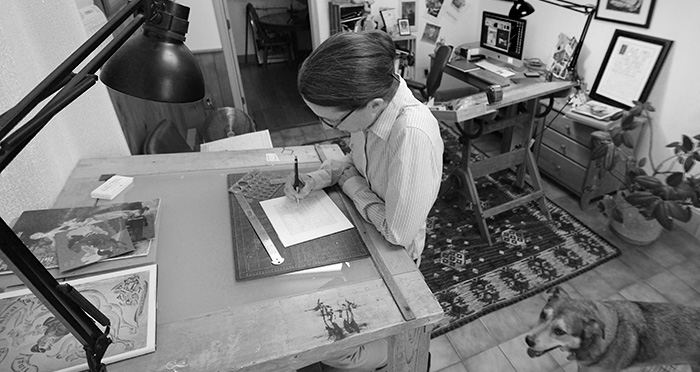 WORK
I balance my graphic design work with directing an outreach program for children called Team Saturday at The Hill School in Middleburg, Virginia. I taught art classes in the program for many years prior to becoming its director; I love this job too.
At Goose Creek Friends Meeting I co-clerk of the Religious Education Committee, teach First Day School (Sunday School), and write lessons. I created and introduced The SPICES Traveling Peace Troupe to the Meeting and guide volunteers through puppetry projects from concept to performance.
I am member of The Puppeteers of America and UNIMA-USA and live in Bluemont, Virginia with my, husband, pets, and numerous marionettes – many of which are from visits with my brother and his family in Prague, Czech Republic.
HISTORY
I found my way into the world of graphic arts at my hometown's local newspaper, the Fauquier Times-Democrat, in Warrenton, Virginia, creating print advertising, illustrations and cover designs from concept to print. At American Management Systems in Fairfax and KSA Communications in Arlington I furthered my experience in design, illustration and project management.
Furyworks was established over 18 years ago as a freelance business, mostly providing pro-bono work for people, causes and organizations that inspire me. A couple of articles by ethical ad man Jelly Helm – Four for the Future (Creativity, November 1998), and Saving Advertising, (Emigre, 2000) – ignited my conviction that the art of advertising and the act of making a positive difference in the world do not have to be mutually exclusive. Furyworks Productions became a full-time endeavor in 2004.
After earning my BA at George Mason University with a degree in art history, I continued studies in programs at the Rhode Island School of Design and the Corcoran School of Art.