Illustrator and Designer
Maria Nicklin | Furyworks Productions
Specializing in hand-lettering and illustration
Furyworks Productions is a small graphic arts studio in Western Loudoun County specializing in illustration, design, and writing.
The studio name is based on the archaic definition of the word fury: the frenzy of being inspired. The words Fury and Works were combined to communicate that the energy of inspiration fuels good works.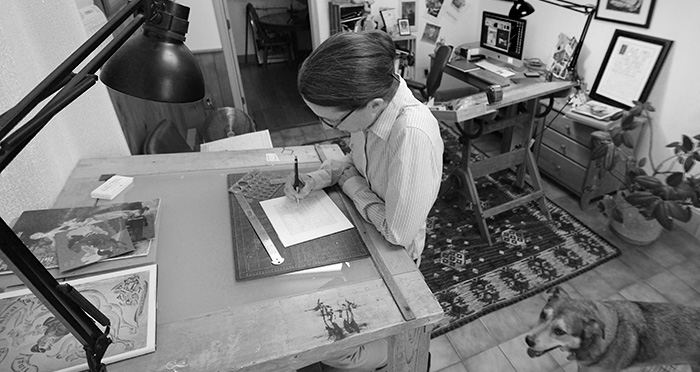 WORK
Most of my work involves drawing. It's tough to separate my illustration from my design work since they are almost always interconnected. The pencil is my favorite medium and the one with which I am most comfortable. Because of that, I scan my pencil artwork and then colorize it using Photoshop. This way, changes are much easier to make. Block printing and pen and ink are two of my other favorite mediums for illustration. For colorizing the traditional way, I generally use watercolors and colored pencils.
I balance my graphic design work with directing an enrichment program for children called Team Saturday at The Hill School in Middleburg, Virginia. I taught art classes in the program for many years prior to becoming its director; I love this job too.
At Goose Creek Friends Meeting I co-clerked the Religious Education Committee for many years and still teach First Day School (Sunday School), and write lessons. I created and introduced The SPICES Traveling Peace Troupe to the Meeting and led simple puppetry projects before the pandemic; we just met recently and hope to resume our community-building activities.
I am a member of The Puppeteers of America,  UNIMA-USA, and the Society of Children's Book Writers and Illustrators.
I live in Bluemont, Virginia with my husband, pets, and numerous marionettes – many of which are from visits with my brother and his family in Prague, Czech Republic.
HISTORY
I found my way into the world of graphic arts at my hometown's local newspaper, the Fauquier Times-Democrat, in Warrenton, Virginia, creating print advertising, illustrations, and cover designs from concept to print. At American Management Systems in Fairfax and KSA Communications in Arlington, I furthered my experience in design, illustration, and project management.
Furyworks was established over 18 years ago as a freelance business, mostly providing pro-bono work for people, causes, and organizations that inspire me. A couple of articles by ethical ad man Jelly Helm – Four for the Future (Creativity, November 1998), and Saving Advertising, (Emigre, 2000) – ignited my conviction that the art of advertising and the act of making a positive difference in the world does not have to be mutually exclusive. Furyworks Productions became a full-time endeavor in 2004.
After earning my BA at George Mason University with a degree in art history, I continued my studies in programs at the Rhode Island School of Design and the Corcoran School of Art.